Which sunumbra
should you choose?


We have 5 products to choose from and are asked many times what's the difference so you can choose properly.  Besides being 100% Natural and free of any toxic, synthetic chemicals, all of them offer:
Best possible Broad Spectrum protection (UVA and UVB)
Additional antioxidants to boost their effectiveness
Rubs in leaving no white residue 
Non-staining
Non-greasy 
Consistency is soft and spreads easily
Vegan
Gluten Free
PETA certified Cruelty Free
All 5 of our products were selected #1 in EWG's 2016 Sunscreen Guide
Each contain other qualities highlighted below to help you choose which one will suit you.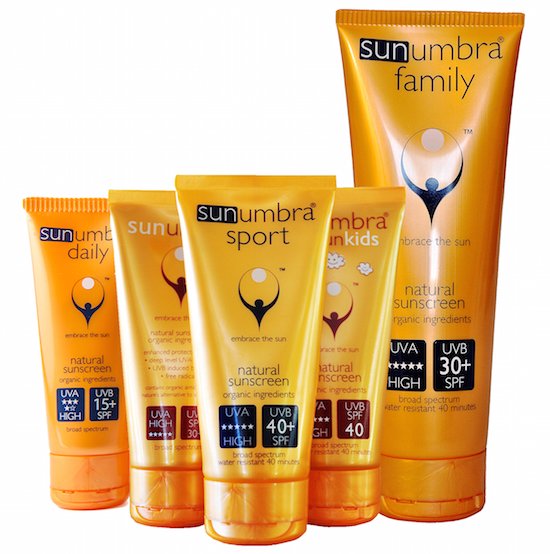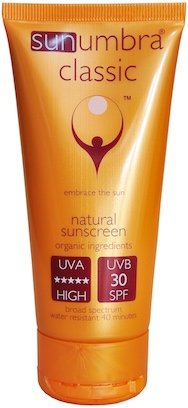 Sunumbra Classic 
This was our first sunscreen produced, providing:
SPF30 protection from the UVB rays for average every day activities in the outdoors
Broad Spectrum. High protection from UVA rays, providing an excellent Broad Spectrum protection
Consistency. Soft and Creamy to allow for easy application
Colour. A soft beige tint from the botanical ingredients has proven to be very popular for those who like to offset any possible whiteness from the zinc oxide.
This sunscreen is a great favourite and many people choose this as their everyday sunscreen for both body and face, for young or old, and for all skin types. 
Potential Staining. The tint can cause some staining but is avoidable with application care and is easily removed. If preferring not to have to manage any potential for staining, see our Non-tinted sunscreens - Sport, Daily and Family below.

Sunumbra® Sunkids 
Based on the Sunumbra Classic, but requested and created especially for children, it provides:

Increased UVB

protection,

SPF40

provides for greater sun protection 

UVA protection remains high for excellent Broad Spectrum protection
Increased immune boost through the addition of one of the most powerful antioxidants, astaxanthin,

 to the existing botanical antioxidants

Colour. This contains a pink-beige tint 
This sunscreen was selected in Environmental Working Group (EWG)'s 2016 "Best Children's Sunscreens" report
Staining is possible but can be managed effectively through application care and effective removal. Our Non-tinted sunscreens below, were created for those who prefer not having to manage any potential for staining.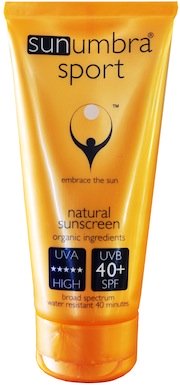 Sunumbra® Sport. 
Created especially for active outdoor enthusiasts, we took out the tint but created all sorts of additional functionalities:


Sunumbra® Daily
Created especially for every day wear... as a daily moisturiser for some or in addition to your daily moisturiser
The main purpose is to provide a light, non-whitening, moisturising, DAILY sunscreen that still provides excellent balanced protection from both the UVA and UVB rays. 
Many people choose to wear this every day as their moisturiser, or on top of their moisturiser. This depends on your skin type as a dry or combination skin type may prefer to wear it on top of their moisturiser. An oily skin type typically wears only the Sunumbra® Daily sunscreen.
Mixing your moisturiser together with this sunscreen will detract from the SPF and UVA protection effect, so rather wear it on top of your moisturiser.
sunumbra® daily also contains properties that boost your skin's natural health abilities, from the inside out, no matter whether you're exposed to the sun's rays or not. Wearing it daily will therefore increase your own body's internal protection capabilities. 

Sunumbra® family
Created especially for families spending time together outdoors… a Family Size at a Family Price
Besides the basics of our Sunumbra® brand - being free of toxic chemicals, fully natural, and offering excellent broad spectrum protection - we provide the following key elements: 

Other aspects for consideration:

Colour is slightly off-white

, with no botanicals containing any tint

Non-staining, non-greasy 
Consistency is soft and spreads easily

---