Sunumbra Daily
is a chemical free sunscreen using plant extracts
specially formulated for daily use
Sunumbra Daily is a natural sunscreen containing organic antioxidants which ensure...
Moderate UVA protection

SPF15 for UVB protection

Broad Spectrum medium protection 

Gluten Free and Vegan

Reef Safe
Also, Sunumbra Daily
#1 EWG Best Moisturizers with SPF selection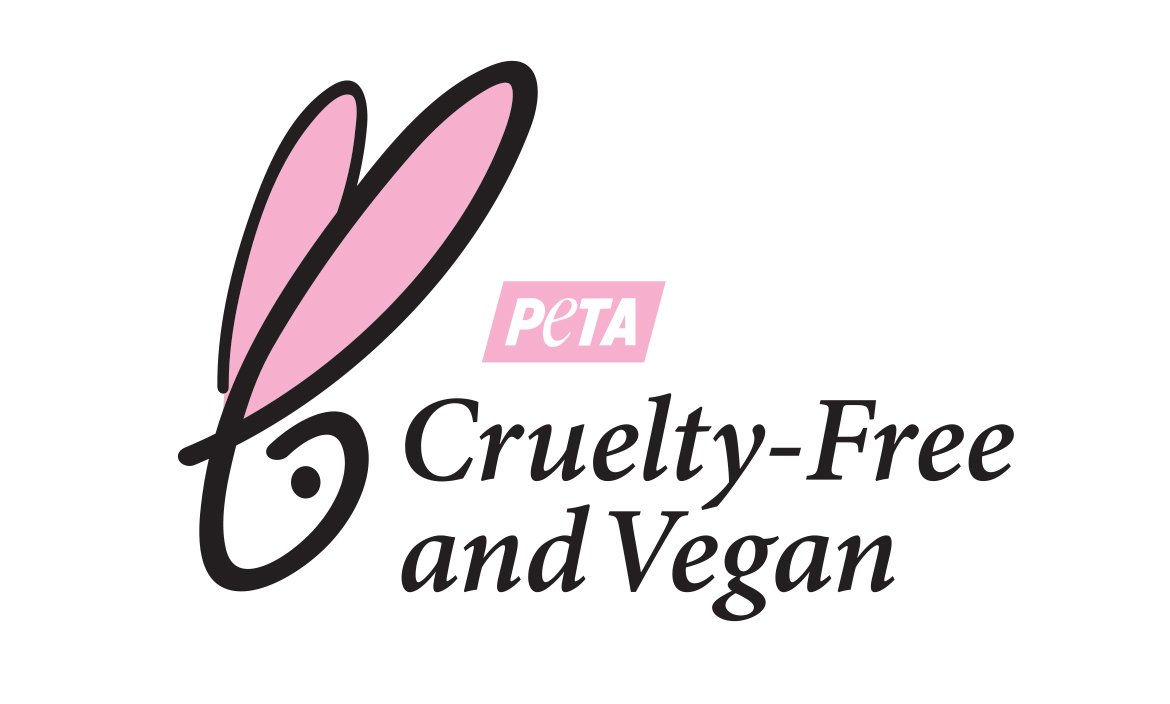 Toxic free sunscreen for everyday wear
The world is waking up fast to the potential toxic effects of chemical based sunscreens to both humans and the environment - resulting in increased demand for fully natural zinc based sunscreens.
From inception 10 years ago to now, Sunumbra sunscreens focus on offering not only fully natural protection from the sun but also strengthening your own natural healing and repair properties for any free radical DNA damage caused by UV, InfraRed or Blue Light radiation.
Chemical sunscreens are specifically designed to penetrate the skin in order to be effective, creating the potential for contaminating the blood stream. They have not yet been legislated to prove they do not damage our health.
Hence we chose zinc oxide alone, acknowledging it for its powerful broad spectrum, balanced UVA & UVB protection. No chemical sunscreen ingredients contaminate our formulas.
Pricing and quantity discounts are on the shopping cart pages.

IMPORTANT NOTE ON SHIPPING.
Please note that due to logistic and legislation changes we are no longer able to ship Sunumbra sunscreens directly to our many faithful US and other International customers from our warehouse in Traverse City, Michigan.

As you may well know Sunumbra was developed in South Africa over 13 years ago and from inception has been manufactured in an Eco Certified laboratory in Pitermaritzburg, SA. We have found that there has been considerable demand to post direct from South Africa, even though delivery times can take 3 or more weeks.
In view of this, as well as making the process of ordering Sunumbra easier, we are offering...
free shipping anywhere in the world whilst maintaining original US$ prices unchanged.
Thank you for your understanding. 

---
Watch this short video of the sunscreen being applied:
Sunumbra Daily created for Everyday Protection
Besides the natural and organic qualities that are the sunumbra® trademark, the main purpose in creating this Daily sunscreen was to provide a light, non-whitening, moisturising, DAILY sunscreen that provides excellent balanced protection from both the UVA and UVB rays, as well as antioxidants to fight off the free radicals that bombard us every day.
Our original intention to produce a sunumbra® SPF15 sunscreen product without any of the current chemical or physical sunscreen filters used globally and only to make use of specific botanical ingredients that provide protection from the sun, was thwarted by legislative issues around the use of these botanicals being acknowledged for their protective qualities.
The increasing demand for a quality natural sunscreen for use on a daily basis prompted us to proceed with the launching of this sunscreen with SPF15 and balanced UVA protection.
Although still using the trusted and favoured zinc oxide, we have included the botanicals that have continued to delight and excite us with their potential of protecting us in a more natural way.
A chemical free sunscreen using plant extracts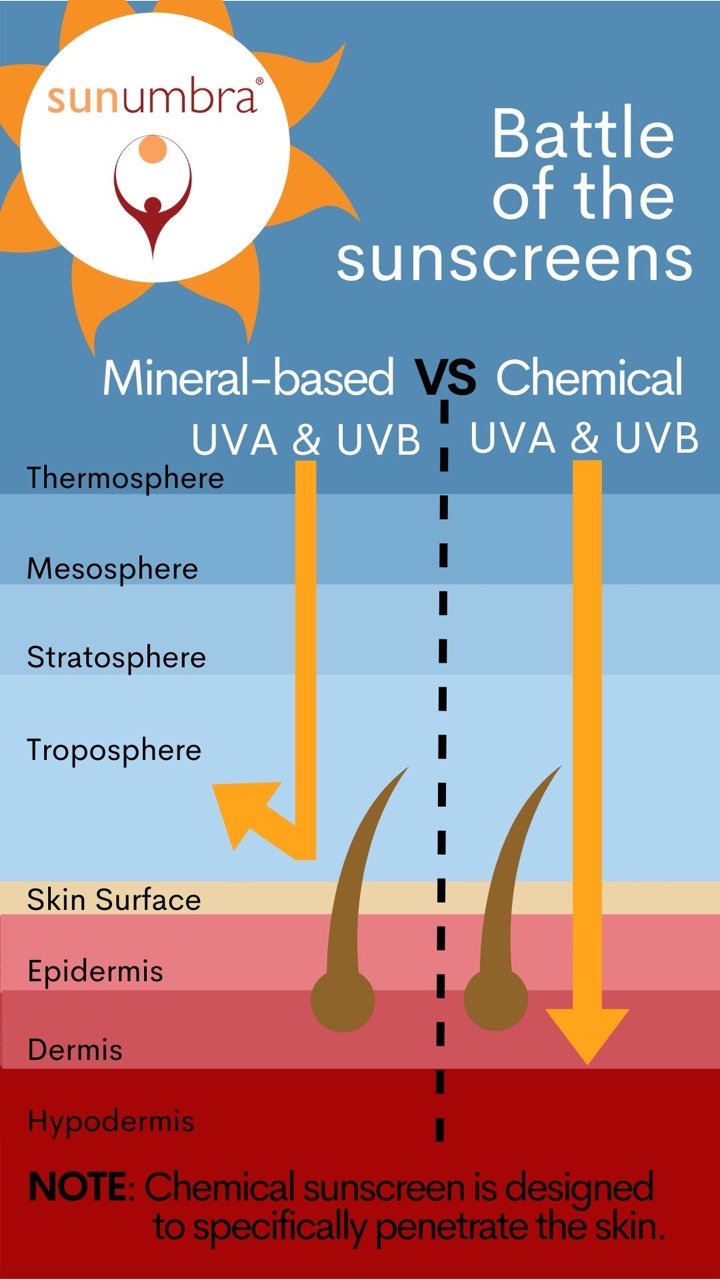 Sunumbra Daily is a natural sunscreen containing organic ingredients that is specially formulated for every day protection, all year round...

Good UVA balanced with moderate UVB protection
Broad Spectrum protection
Fully certified to international standards (ISO/COLIPA) for UVA & UVB
PETA certified Cruelty Free and Vegan, tested on humans only 
Especially good for anyone with dietary, environment or sensitive skin concerns
Sunumbra Daily provides...
effective, photo stable, medium level protection against both UVA and UVB radiation
extra protection from free radical damage and atmospheric toxins
active natural skin nutrients and antioxidants to help reverse the effects of radiation damage
that every single ingredient offers a clear and direct benefit and is not merely included to 'look good'
Sunumbra Daily UVA / UVB Balance
Most sunscreens lack UVA protection, or sufficient levels of UVA protection.
Most important though, is to balance the protection for both UVA and UVB.
UVB protection that is too high, with a lower protection for UVA, effectively allows the UVA rays to penetrate the skin for longer, at a deeper level, thereby damaging your DNA. 
Many high SPF products protect against sunburn caused by UVB rays, but very few block the deep penetrating UVA rays enough, which cause skin ageing, immune system suppression and skin cancer.
Sunumbra Daily is made exclusively from natural and organic ingredients. It is the unique combination of these ingredients that has enabled the total replacement of harmful chemicals to be found in many sunscreens.
These photo-protective ingredients combine to provide wonderful anti-radiation properties, which boost your protection capabilities against both UVA and UVB light every day.
A study by the Environmental Working Group revealed that less than 20% of sunscreens were both 'low hazard' and 'effective'. This was largely because the other 80% contained potentially harmful chemicals...
---
Watch this video to discover more

---
Details of each tube of

S
unumbra Daily
Supplied in 60ml (2 oz) tubes:
Primary active ingredient:  zinc oxide (9%) natural sunscreen, non-nano
Other ingredients:
Sunumbra Daily does not contain any of the following potentially harmful substances...
chemical sunscreen filters
parabens or harmful preservatives
colorants or added fragrance
titanium dioxide
mineral oils
animal derivatives
PEG emulsifiers
Sunumbra Daily specific certifications:
UVB SPF = 15
UVA PF Mean = 7.18
Critical Wavelength = 374.67
DRUG FACTS
Active Ingredients:  Zinc oxide (non-nano) 9%   Purpose: sunscreen 
Additional ingredients:
De-ionised water; Baobab (Adansonia digitata) oil*; sodium olivoil glutamate, cetearyl alcohol, glyceryl stearate**; ascorbyl glucoside (Vit C)*; galactoarabinan**; Aspen (populous tremuloides) bark extract *; superoxide dismutase*;  aloe vera extract***; kigelia extract***; tyrosine*; allantoin*; nicotinamide (Vit B3)*; xanthan gum*
KEY:  * 100% Natural    ** Eco-certified organic   *** Wild sourced
Uses:
Warnings:
For external use only

Do not use on damaged or broken skin

Avoid direct contact with eyes and if required, rinse with water to remove

Keep out of reach of small children

Stop use and ask for a doctor

 

if any rash occurs
Directions:
For sunscreen use apply liberally and evenly 15 minutes before sun exposure (6 tsp per average adult) to all exposed areas – not forgetting the ears, nose, back of the neck, tops of feet and balding or shaven heads. 
For children under 6 months of age, ask a doctor.
Make sure to reapply at least every 2 hours and use a water-resistant sunscreen if swimming or sweating
Other sun protection measures:
Spending time in the sun increases your risk of skin cancer and early skin aging.  To decrease this risk, regularly use a sunscreen with a Broad Spectrum SPF value of 15 or higher and other sun protection measures including:
Limiting time in the sun, especially between 10am- 2pm 

Wearing sun protective clothing: long-sleeved shirts, pants, hats, and sunglasses
Note: Protect the product in this container from excessive heat and direct sun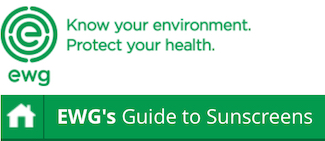 EWG's selection of "Best Moisturizers with SPF"