Cape chamomile oil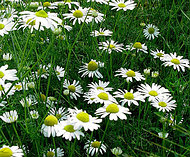 Organically grown - The oil is distinctive for its striking deep blue color due to the presence of azulenic compounds. It is these that provide the powerful anti-inflammatory properties for skin ailments. It is largely composed of fragrant esters, most significantly: 2-methylpropyl 2-methylpropionate, 2-methylbutyl 2-methylpropionate and linalyl acetate. The oil's properties and uses are manifold and include:

anti-inflammatory and soothing, so helps with sunburn, infected cuts and wounds, insect bites
anti-allergenic and anti-septic
all types of skin problems especially sensitive areas that tend to become inflamed including eczema
The mild natural fragrance of sunumbra® is largely due to its Cape chamomile and green rooibos components.