sunumbra® sunkids
...a sunscreen specially formulated for children
and sensitive skins
sunumbra® sunkids is a dermatologically tested natural sunscreen containing organic ingredients which ensure...
5 Star rating (UVA)
SPF40 (UVB)
high protection Broad Spectrum
40 minute water resistance
>>> Pre-summer Special Offer <<<
...see below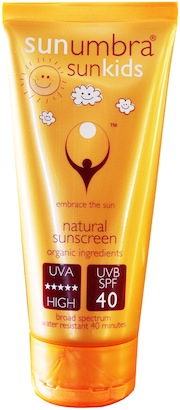 The discovery of a unique combination of plant extracts is the key 'hidden secret' to being able to substitute these 'botanicals' for the harmful chemical filters found in almost all sunscreens sold today.
The paragraph above spells out what makes this new sunscreen formula truly unique
Many sunscreens are both ineffective and dangerous. A detailed evaluation of over 1,400 sunscreens recently made by the EWG resulted in less than 3% being rated both safe and effective. For a full report, including a video by Dr Edward Gorham M.P.H., Ph.D of the University of California, please click here (a new window will open).
sunumbra® sunkids provides...
effective, stable, high level protection against both UVA and UVB radiation
protection from free radical damage and atmospheric toxins
active natural nutrients to reverse the effects of radiation damage
that every ingredient offers a clear and direct benefit and is not merely included to 'look good'
a pH balance that accommodates the higher alkalinity of children's skin
It also...
blocks UVA exposure to reduce melanoma risk
maximizes UVB, without burning, to maximise vitamin D
is dermatologically tested and approved
Here's a complete list of sunumbra® sunkids magical ingredients (each link opens a new window)...
sunumbra® sunkids does not contain any of the following potentially harmful substances...
chemical sunscreen filters
parabens or harmful preservatives
colorants or added fragrance
titanium dioxide
mineral oils
animal derivatives
PEG emulsifiers
To order now click here...

Pricing and re-seller discounts are on the shopping cart pages.
But wait!
First take a look at this...
Special offer...
Copy this 40% coupon...
sunumbra40special
...then click the 'Add to Cart' button below (a new window will open so you won't lose this page) and paste the coupon in the field provided.
This is valid for a limited pre-summer period only